The Late Medieval Buildings
In c. 1500. the Boot was built on a vacant plot in the Market Place, just as the Clocktower had been. Infilling of the once triangular space had been going on for two centuries or so and continued until the later seventeenth century. This replacement of temporary stalls with shops resulted in the pattern of alleys and streets seen today.
The buildings now comprising the Boot have like most old buildings been considerably altered over the years and although much still remains to be learned the general sequence of development is clear.
Originally the property consisted of two timber framed buildings. Fronting onto the Market Place Building 1 contained two shops (Building 1A & 1B). Each of these had two ground floor rooms with chambers over on the first floor. This floor was jettied (that is projected over the floor below) on the front and north sides showing that it occupied a corner site allowing access to Pudding Lane. A lane known to have been in existence by the mid-fourteenth century. These shops had no heating and were "lock up" premises for working and selling. Originally each would have had a door set and one end of its frontage and large unglazed windows secured at night by a shutter.
Building 2 was set lengthways behind Building 1 and seems to have been a similar shop.
The Seventeenth Century
In the seventeenth century Building 2 was extended to the south and at the same time a brick chimney stack constructed. This stack served hearths in the extension and the original Building 2 and also Building 1. The cellars of all three original shops were strengthened by new walls built of flint, Totternhoe stone and some tile and in part this was done to take the load of the new chimney. The south wall of Building 1A was removed to claim the narrow gap that existed between it and the building next door. Thus the timber framed wall visible in the bar is that of an early fifteenth century shop (2 Market Place). It is likely that the original jetties were built under at this period.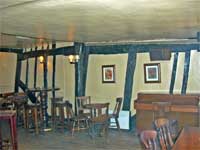 Timber framed wall of the building next door to the south
It is clear that both original buildings were now under common ownership and somehow integrated. Unfortunately twentieth century alterations have removed or concealed much evidence but it might be that the situation was that which pertained early in that century. Then most of the ground floor of what had been Building 1A, the extension of Building 2 and the first floor of the original Building 2 formed one property. The rest of the ground floor of both buildings and the first floor of Buildings 1 formed another.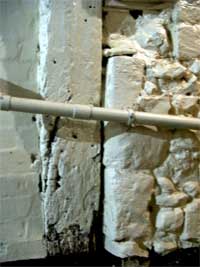 Original timber post with later stone cellar wall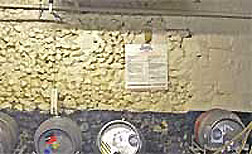 Flint and "clunch" lining to cellar wall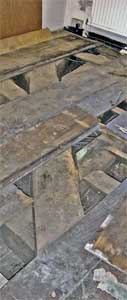 Dragon beam to carry jetty round corner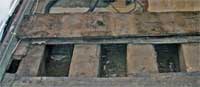 Original floor joists on first floor
---
Below - The development of the Boot as seen from the Clocktower

---